Not everyone can say that presenting the Steinlager Series trophy to the captain of the New Zealand All Blacks in front of a packed stadium was all in a day's work – but Kerry McKenzie can.
In her current role as Senior Brand Manager for Steinlager, it's Kerry's responsibility to manage and nurture key partnerships such as the NZ Rugby/All Blacks and Emirates Team NZ, so sometimes she's required to (quite literally) step up to the podium.
These events are always a highlight for Kerry, who was drawn to Lion for the opportunity to work with some of NZ's most iconic brands. They're also moments she enjoys sharing with her team, her friends and family, who are more than happy to lend their support whenever they can. "My friends think I'm living the dream selling beer and going to sports games and music events," she laughs. "They're also well versed on which Lion products to drink and which bars we should go to."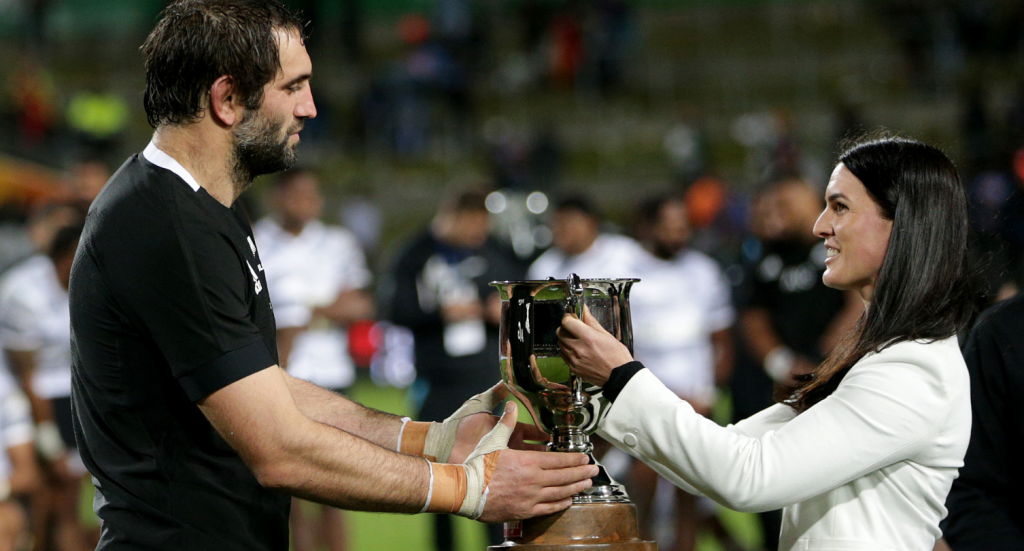 Teamwork makes the dream work
Of course, Kerry's role isn't all beer and skittles. It commands a high level of skill to lead the overarching brand strategy for Steinlager, as well as oversee the execution of marketing campaigns and all elements of the marketing mix to ensure the Steinlager brand remains top of mind with consumers.
Kerry started at Lion two years ago as Senior Brand Manager across the ABI Beer portfolio before moving into her current role. She says it takes a dedicated and hardworking team to put complicated marketing strategies into action. "Lion NZ is well-known in the industry for having a great people culture," she says.
I love working in the NZ Beer marketing team with a group of really talented marketers who push me to be better each day.
The sense of shared success and teamwork found at Lion has made an impact on Kerry. "Seeing my teammates succeed makes me proud to be at Lion," she says. "There is a real focus on recruiting the right people and I love seeing their work perform on the big stage against global brands."
Fostering future success for Women at Lion
Lion's focus on people also includes an ongoing commitment to a more gender balanced workplace, in what has traditionally been a male-dominated industry. Kerry recently completed Women at Lion, a development program designed to help women at Lion reach their full potential, expand their knowledge, opportunity and skills to strengthen their career vision, grow peer networks and increase their confidence.
Kerry found the experience to be enriching, describing it as "Enlightening, rewarding, challenging and a key to unlocking future growth" for herself and for other women who participated. "The highlights for me were meeting the other epic women on the program and having close discussions with the GLT, understanding my 'life fingerprint' and the Smiling Ox Paradox workshop."
Finding work-life balance
A team player in life too, Kerry counters the hectic hustle of marketing by keeping active, playing sport and enjoying outdoor activities with family and friends, a passion she also nurtured by studying Sports Science. As part of her healthy lifestyle and fitness mindset, Kerry believes learning to swim is a life skill everyone should learn if they have the opportunity, and she enjoys swimming in New Zealand and Australia's beautiful lakes, rivers and oceans whenever the chance arises.
After a long year of indoor activities, Kerry's now looking forward to the warmer months, enjoying time with friends and a Steinlager Ultra or two. "Our kiwi summer – you can't beat it," she says. "Days boating on the lake, evenings having a beer with friends, summer music festivals and making memories."
Every day at Lion, collaboration powers our business. We never stop looking for ways to make genuine connections with our customers. We believe our people have it in them to achieve something outstanding.